Writing Workshop
Casa Del Sol at Ghost Ranch
New Mexico
September 4 – 8, 2016
With award-winning authors Sean Murphy and Tania Casselle
Join us for a sweet, contemplative writing retreat at a secluded hacienda on Georgia O'Keeffe's historic Ghost Ranch property.  (Update August 25:  Only 2 spaces remain, taking final registrations.)
Casa Del Sol has stunning views of the Pedernal (Georgia's own personal mountain!) and it's just a stone's throw from Georgia's private home, two miles from the main Ghost Ranch facility and a million-seeming miles from everywhere else.
We are truly walking in Georgia's footsteps when we take our creative inspiration from this sacred landscape.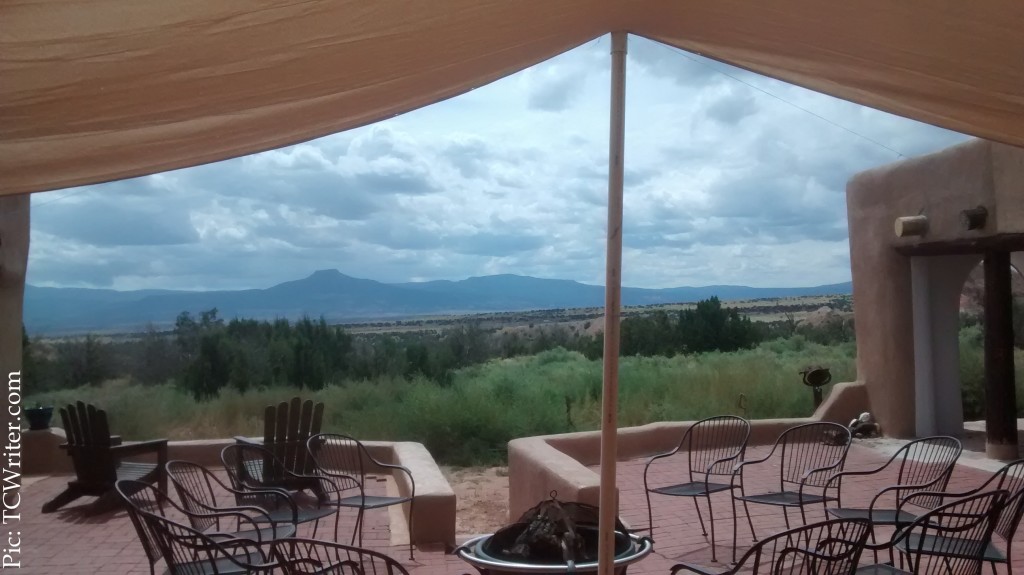 We have only about a dozen spaces for this rare opportunity to write in the peacefulness of New Mexico's red rock beauty, nourishing our souls while watching gorgeous sunsets and the star-strewn sky above the courtyard fire pit.
We'll explore writing from the ground up, finding inspiration in the land around us, as well as diving deep into our own creative landscapes.
We'll cover how to get going and keep going as a writer, tricks to beat writer's block, free-writing and other techniques, plus experiments with structure, style, and the observation skills that bring our writing alive.
We will have time to share silence and the tranquility of the land, including periods of sitting and walking meditation, as well as the opportunity to share the ideas and experiences provoked by the magnificent setting.
Whether you are a complete writing beginner or an old hand, a casual journal keeper or an aspiring poet or novelist, you'll leave with a pad full of writing and a fresh set of tools to invigorate your style.
This is a process-oriented workshop, we will not be critiquing writing during the retreat so you can feel free to experiment! (However, participants receive a heavy discount on our usual fee for manuscript critiques before or after the event.) Contact us by email to register, specifying your choice of room.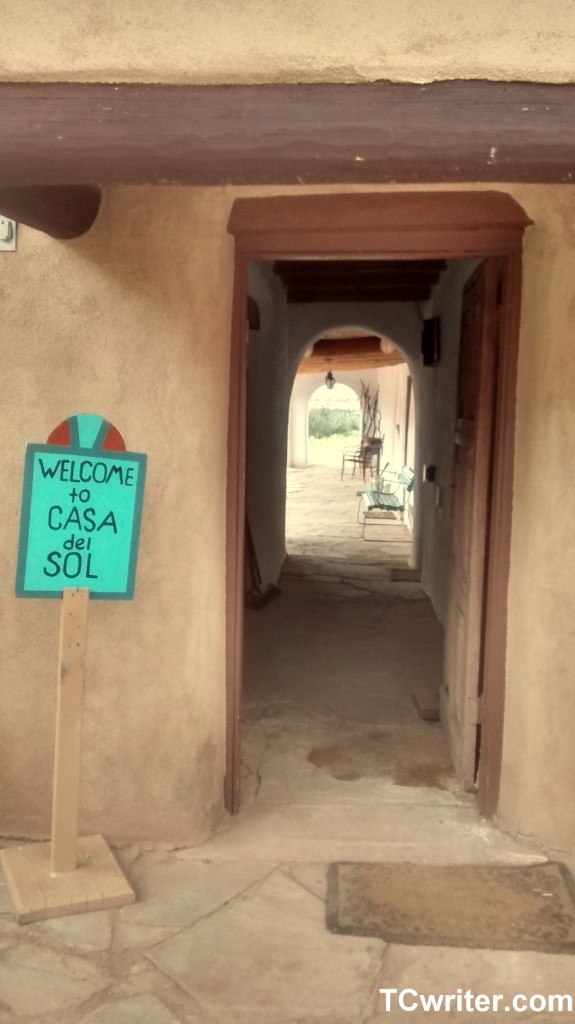 FEES AND ACCOMMODATIONS
Check in: 3 pm, Sunday Sept 4, 2016.
Departure: 11 am, Thursday September 8.
Tuition $475 + your accommodations at Casa Del Sol.
–Shared accommodations (2 writers per room) and shared bathroom (very close but not in room) for 4 nights including meals $325 per person (Including tuition = $800 total)
LABOR DAY SPECIAL DISCOUNT: Register between August 13 – September 2
We have only two spaces left (shared room) on this writing workshop. (Private rooms are all booked.) New registrations between August 13 and September 2 receive a 10% discount by mentioning the LABOR DAY SPECIAL offer when emailing for details. This will secure the 10% discount on the $800 rate for 4 nights, including all tuition, meals and comfortable shared rooms: $720.
All fees above are subject to New Mexico Gross Receipts tax (sales tax) of 6.5 %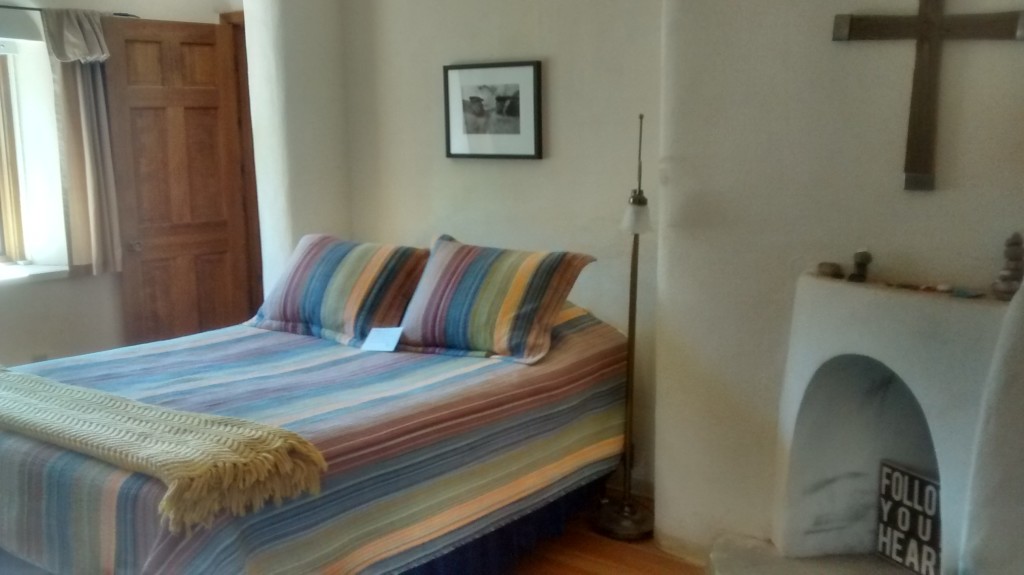 Rooms are comfortable and modest, in keeping with this historic location. The attractive decor is traditional Southwestern style, and every room is unique with its own charm.
If you do not specify a friend to share a room with, we will match same-sex writers. (Limited) accommodations for couples available, please inquire.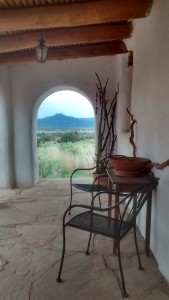 *We will have our own cook in residence to provide simple, delicious meals that can be adapted to most dietary requirements. Please let us know of any dietary restrictions when registering.
** One partial scholarship/work study position is available to a writer on limited income. Please inquire.
Accommodations are limited in the hacienda so please book early so you have your choice of room!
Contact us by email for complete information and how to register.
Email: MurphyCasselleWriteNow@gmail.com
---
SEAN MURPHY is the Hemingway Award-winning author of three novels published by Bantam/Dell. His latest book — a new edition of One Bird, One Stone, his nonfiction chronicle of Zen in America featuring an introduction by Natalie Goldberg — received an International Book Award. He is also the author of the Pulitzer-nominated novel The Finished Man. www.MurphyZen.com
TANIA CASSELLE has been a professional writer & editor for two decades, writing for numerous magazines & book publishers including Writer's Digest Books. A Pushcart Prize nominee for fiction, she's received recognition in the New Mexico Book Awards, Raymond Carver Short Story Award, Virginia Woolf Asham Award, etc. www.TCwriter.com
See our full author and writing teacher bios here, or enjoy more photos of Casa del Sol below!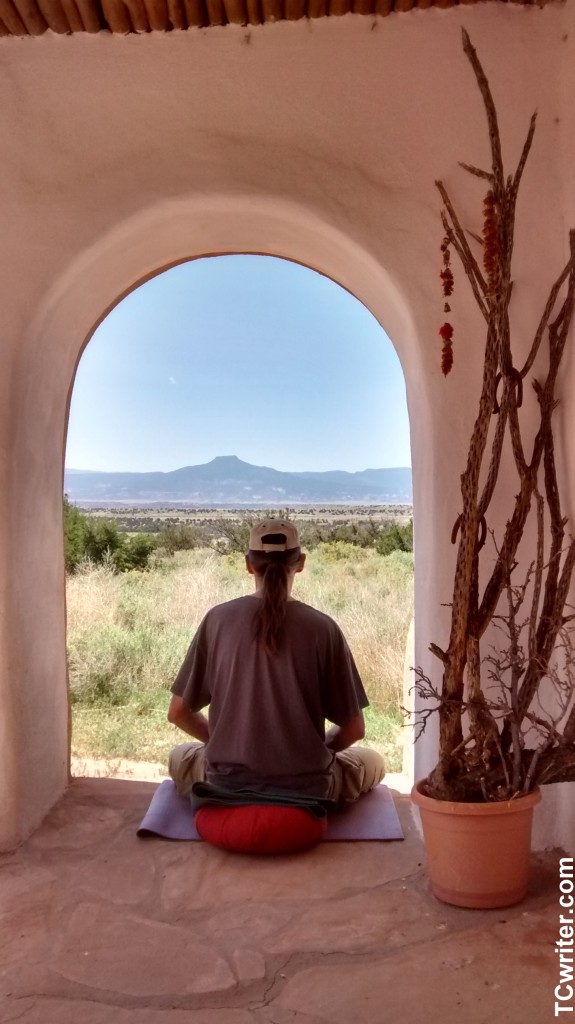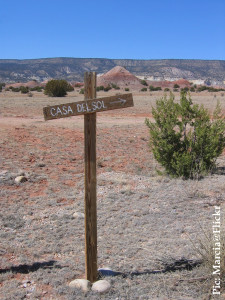 Contact us by email for complete information and how to register.
Email: MurphyCasselleWriteNow@gmail.com