Teens Take Taos with Miranda July
Report and photos by Tania Casselle for Release Print Magazine.
"So, what do you want to film today?" asked video maker David Wilson to a quartet of teenagers, laden with cameras and mikes. How students from Massachusetts, California, and all points between went hands-on with indie film gurus Miranda July, Art Jones, and Mindy Faber in the Taos Teen Media Conference.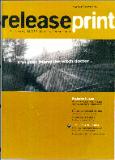 Release Print is the magazine of the Film Arts Foundation based in San Francisco, now part of the San Francisco Film Society.