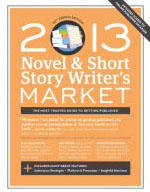 Chapter in Novel & Short Story Writer's Market 2013 (Writer's Digest Books) by Tania Casselle.
"What's your best tip for new writers?" That's a question I've asked more than 50 authors in radio interviews, and they're often quick to reply: "Read! Read a lot. Read with a writer's eye."
It's advice that newer writers sometimes take with a grain of salt, perhaps suspecting that those already on the publishing ladder are just trying to sell more books. And even if we do take their advice, what does it mean to read with a writer's eye? We don't want to sound like someone else, we have our own voice and style. So how can reading other people's work practically help with our own writing?
Chapter includes interviews with authors Pam Houston, Lisa Tucker, John Dufresne, John Nichols, Robin Romm, Tara Ison, Don Waters, Robert Wilder.