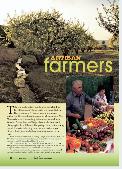 Artisan Farmers: On the Road in Farm Country
Take one food producer and farming specialist: Lisa Fox of Southwest Chutney. Add one writer: Richard Harris, author of 41 books, most of them travel guides. Stir, blend, and send them out to tell the story of New Mexico's farmers. The resulting dish was the book Artisan Farming: Lessons, Lore, and Recipes.
But perhaps the most interesting part of this recipe is hearing these two authors from very different backgrounds talk about what they learned on the road. Read the full Artisan Farmers article for Local Flavor magazine, May 2010.