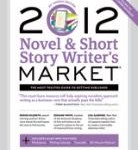 For Novel & Short Story Writer's Market 2012 (Writer's Digest Books) by Tania Casselle.
If you're reading this book, you are no doubt all fired up to submit your fiction to the many great literary journals featured here, or to hit 'send' on queries for your novel. May the writing gods smile on you to receive an acceptance first time out, but if you're in the writing game for any amount of time, sooner or later you'll receive a heart-sinking "Sorry, this isn't for us."
As you rip up the letter and kick the nearest object that won't kick back, THIS is the time to remember the real secret to publishing success: Only one thing differentiates between decent writers who are published, and decent writers who are not published, and that is perseverance. You can't send one story to one journal and, if it's rejected, throw your hands in the air and stop submitting. Well, you can of course, but then you'll join the long line of other decent but unpublished writers who did the same thing. And to persevere on the writer's path, you need to be able to handle rejection.
2,500 word chapter on how to deal with the dreaded rejection slip includes insights from an editor, a novelist, and a short fiction writer.