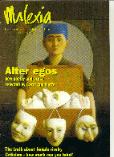 From Monkey Mind to Wild Mind
Interview with Natalie Goldberg by Tania Casselle for UK magazine Mslexia.
Just as a writer sits down to face a white page, so the Zen master must sit on a meditation cushion and face a white wall – hour after hour, day after day. Both are tormented by the chatter of Monkey Mind. For writers, there's a lesson to be learned from the Zen way of taming the monkey…   Author Natalie Goldberg (Writing Down the Bones) tells us how.
"In our society we all have this great need to be productive," says Goldberg. "Writing practice can be very frightening because I'm asking people to step into the emptiness of their own mind, with no project. That's the landscape of the writer, understanding the mind."
Feature for Mslexia magazine including interview with Natalie Goldberg and advice for writers.