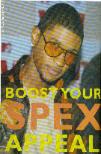 Just because summer is over, there's no reason to leave your sunglasses at home.
Eye experts recommend shades as a year-round accessory to protect against UV damage, eye strain, and wrinkles. For once, it's a joy to follow the doctor's advice.
Eye health and sunglasses style trend feature for Bally Total Fitness magazine.