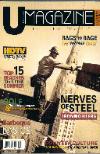 Something Old, Something New by Tania Casselle for U Magazine.
From red carpet to city street, vintage clothing is in demand, whether it's Jennifer Aniston's '70s Halston number at the Emmy's, or a corporate guy's sharp Rat Pack suit.
Authentic vintage has been boosted by modern designers, whose vintage-inspired collections sometimes make it hard to tell old from new. Vintage VIPS Penelope Cruz, Renee Zellweger and Sarah Jessica Parker add a celebrity seal of approval – after all, nobody's going to call SJP a Second-Hand Rose when she sports a vintage Mickey Mouse T-shirt. And who can fault 'Scissorhands' Johnny Depp's knack for snipping together vintage-inspired looks from across several decades? Let alone his fabulous fedoras.
"There used to be just a small group of loyal vintage-holics, who wore vintage whether it was trendy or not," says Jim Smiley, of the eponymous Manhattan store. "Now celebrities wear it, everyone sees it in magazines and on TV, and they all want it."
Full feature, plus tips on where and how to shop vintage, available for reprint.